he government of Alberta is establishing a Kananaskis Conservation Pass that will see vehicles charged a per day, or annual fee to access the region's provincial parks and recreation areas, including those located in the Bow Valley corridor.a day ago By: Tanya Fouber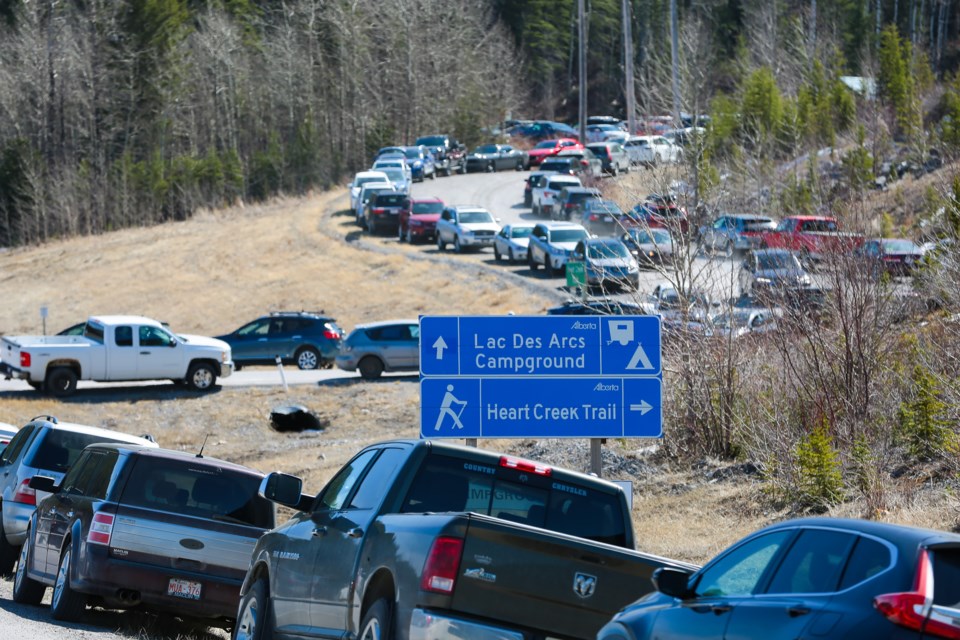 Several dozen cars park along the Lac des Arcs highway exit and along the road to the Heart Creek trail head parking lot on Saturday (April 17). The parking lot was full. EVAN BUHLER RMO PHOTO
KANANASKIS COUNTRY— The government of Alberta is establishing a Kananaskis Conservation Pass that will see vehicles charged a per day or annual fee to access the region's provincial parks and recreation areas in the Bow Valley corridor.
Starting June 1, 2021, visiting K-country will cost recreational users $15 a day or $90 a year per vehicle. The regions a pass would be required includes popular hiking areas along Highway 1A, the Trans-Canada Highway and those accessed through trailheads in Canmore and around, such as Grassi Lakes.
Environment and Parks Minister Jason Nixon said Tuesday (April 27) 100 per cent of the revenues from the initiative will go directly into managing of the area and conservation initiatives to protect it into the future.